'Isabella' release is here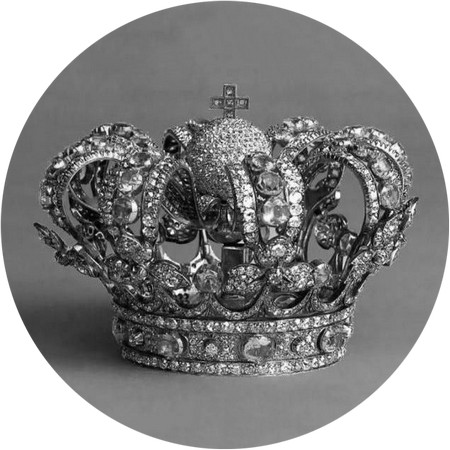 Another release named after one of our Kickstarter backers request, 'Isabella' is here! Why the crown? Our backer Collin Gibson said, "Isabella was a Spanish Queen my mom was named after and this was her crown. Let's dedicate this Freedcamp update to all our moms!"
[CALENDAR] You can now filter inside Calendar and save "most used" filters for quick access (check it out here).
[SUBTASKS] A few new improvements:
– Collapsing/expanding all Tasks and Subtasks is added to cog wheel menu in Tasks.
– Collapse and expand status for Subtasks is changed to remember your actions. Previously other users' collapse/expand actions could affect what you see.
– Free Subtasks were upgraded to allow reordering and task/subtask conversion with drag&drop (check it out here).
[REPORTING] We've added data feed links! Give it a spin and please share your ideas so that we can improve the template we've prepared. We want to make sure that we are providing reports that are most beneficial to the Freedcamp community.
[PROJECT TEMPLATES] Plan you projects backwards from latest task or milestone due date (short demo).
[EMAILING-IN] We have been working hard to implement tasks, issues, discussions creation, and file uploads by emailing-in. We've started by adding better support for attached files and inline images from "reply-to Freedcamp" emails that we already support. See for yourself here and remember that you can post new comments to Freedcamp by replying to Freedcamp's email updates.
[SHORTCUTS] Store your frequently visited pages, active discussions/tasks, and things to talk about next team meeting right in Freedcamp with Shortcuts.
[AUTO-SAVE] Next step will prevent your Freedcamp updates from being lost because you forgot to save– or your cat decides to use your keyboard while you're on the phone (see how it works).
[TASKS][SUBTASKS PRO] If comment icon has "…" for tasks or subtasks you can hover over to check description (see it in action).
[FILTERS] Filter by start and/or end date in Time Tracking and Tasks applications. You can now easily see time records for this month or tasks with due dates this and next month (link to check).
[SORTING] Sort your tasks by Date Completed!
[EXPORT] We've added three new columns to Tasks and Issue Tracker export files: latest comment, comment author, and comment date.

We have also fixed times in export files. They are now converted to your preferred time zone.
[INVITES] When inviting new people to a project you can now easily retrieve your last custom invite message (check it out here).
[KANBAN] You can see attached files and comment count in Kanban view: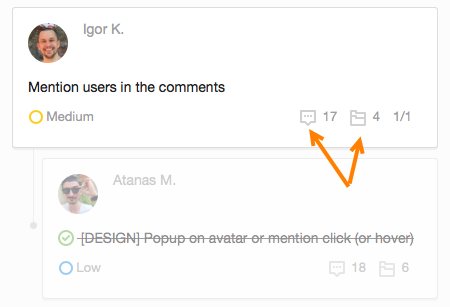 We have also added task group description on mouse hover in Kanban view to Tasks and Global Tasks Board.

[ISSUE TRACKER] You can now search by Issue ID with or without prefix and by the Unique ID that some of our users set up for referencing issues (check it out here).
[NOTIFICATIONS] Only interested in being notified of new comments posted by your team in Freedcamp? Check our blog post to easily set this up with Gmail.
[NOTIFICATIONS] We added Project Name and Project Group Name to task due date reminders.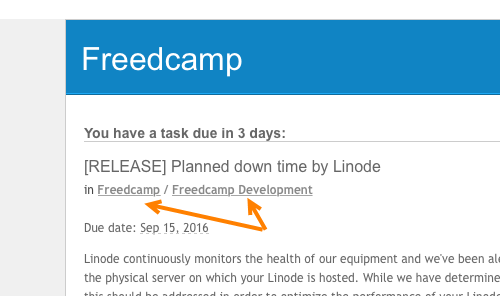 [WIDGETS] Activity widget was improved by adding (sub)task name.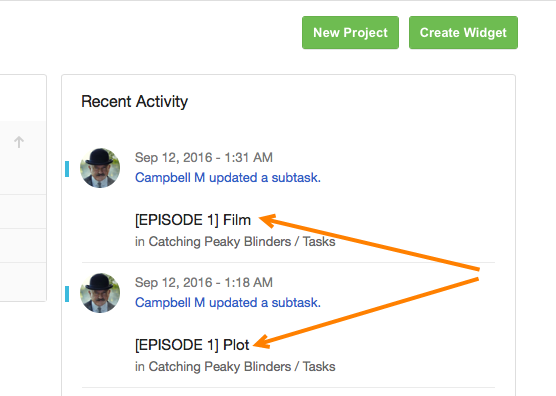 [FREELANCING?] Check guest post from Minnie Katzen Mayer from Payoneer – 'Getting paid should be easy'.
Stay tuned! We have more good news for you next time,
The Freedcamp team