Fine tune notifications using your email client – comments only
Most email clients these days are pretty sophisticated, underused tools. Users often have very different requests about how to get one kind of notifications but not the other from these systems. Eventually, we will add some customization but from our customer support experience, all requests are different. Creating a very flexible interface can lead to another problem – nobody being able to understand how it works 🙂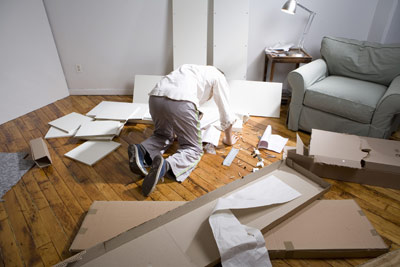 We decided to give you an idea of how you can get what is important for you and stack away the rest to unload your Inbox. We will use Gmail and our goal for today is to filter away all email notifications but new comments. At the end, we will also provide filters you can import for both Gmail and Outlook.
We assume that you have 'default' settings set in Freedcamp which means that you are only notified on items you are subscribed to.
First we need to create new label "Freedcamp Updates" in Gmail. This is where we'll put emails that aren't comment notifications.



All emails from Freedcamp come from this address reply-to-add@mail.freedcamp.com. Emails for new comments follow this pattern [Freedcamp Development] Alex S. added a comment in Tasks [6468676]. When someone mentions you in a comment, the email subjects are slightly different: [Freedcamp Development] Igor K. mentioned you in a comment in Issue Tracker [FRE-1547]. So we can isolate them by using the words "commented on" and "mentioned you".
Now all we need to do is create a rule/filter to put all emails except ones containing "added a comment" or "mentioned you" to the "Freedcamp Updates" folder and mark them as read.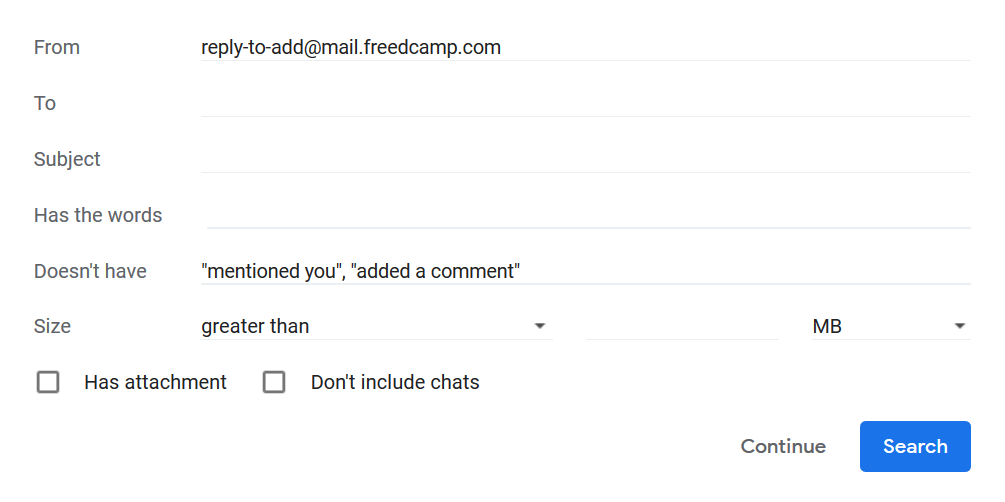 Gmail will show this popup – click 'OK'.

On the last step you have a few choices. We chose to mark emails in the Freedcamp Updates folder as read, but you can also use 'Skip Inbox' or "Delete it" – if you do not want them stored.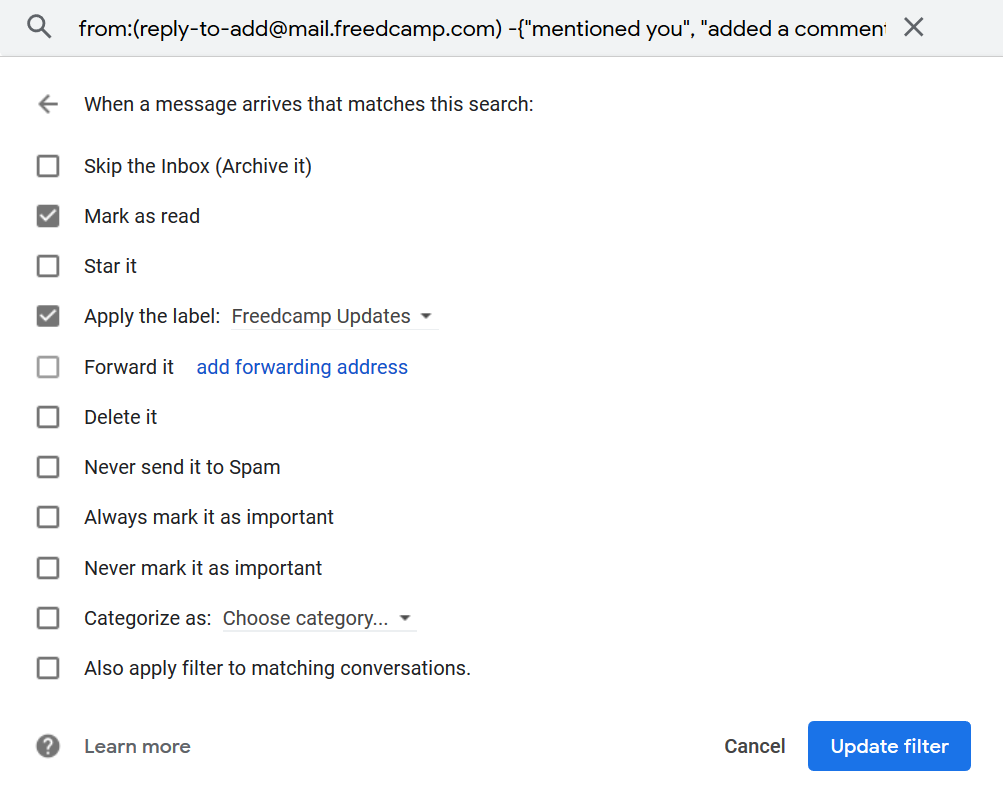 Now you only have emails for new comments in your Inbox with everything else either deleted or stored outside inbox and labeled. As promised, here are some filters you can upload to Gmail and Outlook to achieve this.