GMail – quick access button is now live!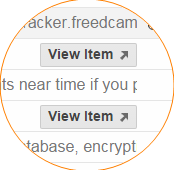 If you use Google Mail, you'll like the new shortcut we've added. It took us a while to implement this, but we've finally had Google implement the button inside your Inbox.
Now when you receive an email notification, you'll see a small "View Item" button to the right of the subject line. Click it to instantly open a task or discussion without opening the email.
This small change will definitely remove some extra friction for you and us.