CRM tasks and calls are added to global search
We can now search for your Freedcamp CRM tasks and calls.
Please note that campaigns and contacts are not supported yet.
When you enter text, we search through CRM task calls and tasks – titles and descriptions. We also support search operators title:: and description:: you can use to narrow down your search. Searching comments added to CRM tasks and calls as well as search operator comment:: support will be added soon.
You can apply additional filters as shown below to narrow down your search.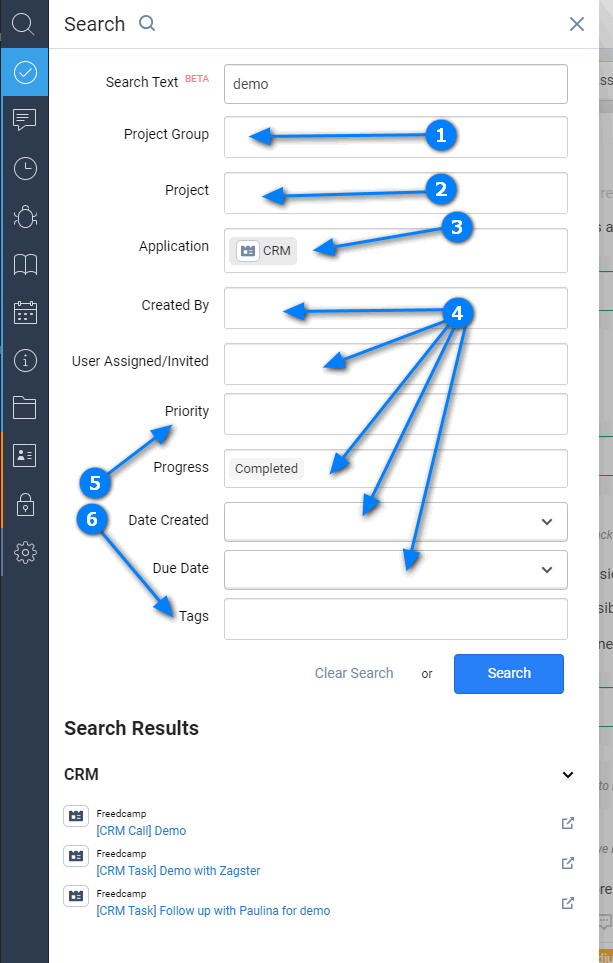 (1) – you can select particular project groups or leave it blank and search all your team CRM's if added to multiple project groups
(2) – if you select project(s), a search will not go through CRM tasks and calls because CRM is a project group level application
(3) – if you are looking for data from CRM – select it
(4) – these filters are supported to be used
NOTE: if you select 'In Progress' option in 'Progress' filter, you will also get CRM tasks that have'No Progress' status. This is because CRM tasks only have two statuses 'No Progress' and 'Completed,' so 'In Progress' is treated as 'No Progress' in CRM search. We use the same approach on the Calendar board where the same filters can be applied to show/hide CRM tasks.
(5) – 'Priority' not supported and will bring zero results from CRM if selected.
(6) – Tags support will be added soon. You can not tag CRM tasks and calls yet, but you can tag comments added to CRM calls and tasks. We will include these into the search results.