Release notes – 7 November 2015
Here's what we have for you this time around:
• Subtasks are now released. More advanced version with more features is coming later this year!
• Tasks is the new name for the To-Dos application.
• Global Tasks Board is released. Export filtered tasks to XLS file is coming soon. Want to have it asap? Add your vote here. Have a suggestion to improve it? Please post it.
• Filter to see overdue tasks was added to Tasks, Milestones and global Tasks Board. Now you can see overdue tasks but do not forget to set progress filter to show not started and in progress status only as otherwise you will see also completed tasks which were completed after its due date.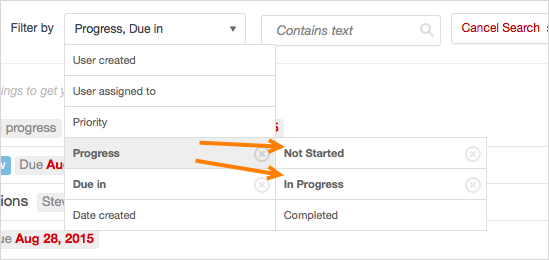 • Calendar Board is improved. When you click on a date – we preselect that date as a due date in Quick Add. 'View Item' button now opens an item in a new tab.
• Issue Tracker search includes issue number and description. Added new 'order by' options – by issue number and alphabetically.
Under The Hood Improvements – applications
[WIKI Application] Added order by update date
[INVOICES+ Application] Amounts in the total field were rounded – fixed now
[TASKS Application] Due date is in red if a task is not completed and overdue
[TASKS Application] Now you can easily remove due date when you edit a task
[TASKS Application] Some completed tasks were still shown when "hide completed" filter was applied
Under The Hood Improvements – overall Freedcamp
[CALENDAR WIDGET] When an item is open – we show a project group name and a project name on top
[MANAGE USERS] If you have more than 20 people in a project we show you a list instead of a bunch of avatars
[MANAGE USERS] Some users were shown twice on 'Manage apps & teams' page
[PROJECTS] Fixed a bug with a color picker. It was not visible in some cases
[TEXT EDITOR] Indented text in the editor was shown without indents when saved
[DASHBOARD] In some cases project group name was not shown
This release involved another 30 miscellaneous tasks!