Work Management: 10 Tools to Keep Your Team on Track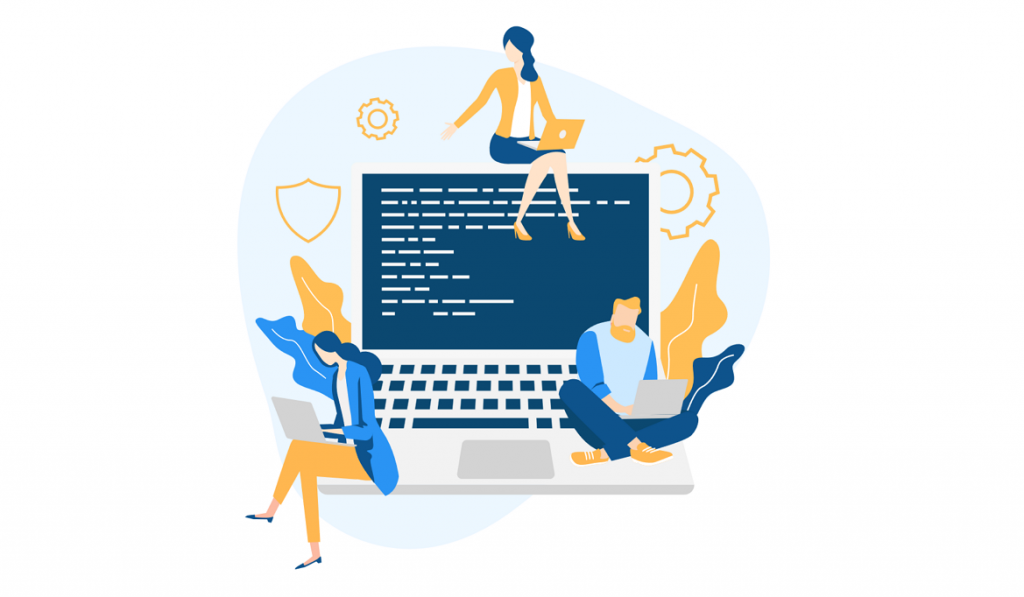 On paper, staying focused on your work seems trivial. All you have to do is minimize distractions and keep chugging along until you're done. In practice, it's a lot harder to pull off — like, A LOT harder if you know what I mean.
Thankfully, advancements in software have made it easier for us to stay on track. Tools like Freedcamp, Chanty, Zoom, and countless others continue to revolutionize the way we work to this very day.
That being said, with so many options to choose from, it can be hard to figure out which tools are the right picks for the specific needs of your team. Seeing as that's the case, we've decided to write this article to give you a closer look into each one.
Let's get right into it!
Top 10 Tools
To make things digestible for you, we've decided to split up the tools into 10 categories. This makes it possible to easily navigate the different types of tools you may need and see which solution is currently leading the market based on the price-performance ratio.
Task Management: Freedcamp
If you're a fan of task management platforms like Asana or Teamwork Projects, then you'll love Freedcamp. It's an all-in-one solution with all the tools you could need for task management in a single suite.
Beyond basic task assignment functionality, you can also use its calendar to schedule meetings, send messages with its discussion feature, and even set up milestones to make large campaigns easily digestible for all the collaborators on board.
Time tracking, password management, and file sharing (with version tracking) are a few other features that Freedcamp brings to the workflow of your team. Despite being filled to the brim with features, Freedcamp is absolutely free forever.
Even if you decide to upgrade to the paid plan, it will only cost you $2.49/month per user with further discounts available to those who pay annually. Taking your subscription to the next level will let you integrate third-party cloud storage platforms, so it's definitely worth the upgrade.
There are also two other paid plans in higher price brackets, but they themselves are cheaper than most other task management solutions on the market with monthly costs of $8.99/month and $16.99/month respectively. The business plan offers the following benefits: Gantt Chart View, Wikis, Invoices, Issue Tracking, Project Templates, Reports.
Team Communication: Chanty
Communication is an essential part of online collaboration since you can't work effectively if you're not all on the same page. That's why apps like Chanty are crucial to any company's workflow regardless of size.
Whether you're a startup or a multinational corporation, Chanty has all the communication features you'd need to stay coordinated throughout every campaign. Despite offering robust chat software and 20 GB of cloud storage, Chanty is free forever.
Chanty offers not only a team chat but also a task management system with a Kanban board. You can simply create a task out of any message and keep track of it in the task board.
If your team exceeds 10 members or wants to access the business tier features, then you'll only be paying $3/month for each user added. Upgrading your subscription yields new functionality like video conferencing, screen sharing, unlimited third-party integrations, and a lot more.
It's worth noting that the free plan isn't as restrictive as some other competitors. For instance, unlimited search history on all your chat conversations is available regardless of whether or not you're a paying subscriber. This is likely why quite a few disgruntled Slack users have switched.
Video Conferencing: Zoom
You can't make a list about online collaboration tools without mentioning the explosive stock that nearly shook the foundation of Wall Street during its rise this year. The share price has zoomed past analyst expectations and is currently up by over 450% year to date.
The video conferencing software has become a favorite in the world of education considering the fact that certain public health obstacles have encouraged the shift towards digital learning. Many say the transition was inevitable but that 2020 has hastened the process through urgency.
One of the reasons why it's so popular with schools and businesses alike is the fact that it's free to use if you're fine with a few restrictions. Perhaps the most notable limitation of the free plan is the 40-minute time cap on group meetings.
However, the paid plan removes that boundary and lets you go as long as 30 hours — though we don't see anyone having a call like that beyond any edge cases anyway. Upgrading also provides a gigabyte of cloud storage for conference recordings.
This can be very useful if your team often needs to review information from meetings while executing tasks in the future. Heavy recorders can also get add-on storage starting at $40/month with the highest capacity of 3TB/month being a bit pricier.
Paid plans range from $15/month to $35/month for each license, so there's an affordable price tier for every type of business. You can also save hundreds of dollars a year on their business plan by paying for your subscription annually instead of monthly.
Business Calling: Grasshopper
While instant messages, discussion threads, and revision requests have somewhat reduced the need for verbal communication, there will always be situations where a quick phone call is the best way forward.
Fortunately, we don't have to rely on legacy landline methods anymore since business calling has been modernized through innovations in the cloud sector. There are countless business calling providers out there, but Grasshopper stands out because it's accessible to SMBs.
Many of its competitors target the enterprise market, but smaller companies are always well-accommodated at Grasshopper. It has all the key features you'd need such as IVR, voicemail, and faxing to ensure that your team can collaborate seamlessly.
Furthermore, it's one of the easiest solutions to set up with the overall integration time being significantly faster than the majority of alternatives. Prices start at $29/month for a single phone number with three extensions.
Those who need more lines can go for the $89/month tier which provides five numbers and unlimited extensions. The final bonus of Grasshopper is its cross-platform compatibility with support for both mobile and desktop devices (having native apps for both).
Digital Asset Management: Pics.io
Pics.io has been the digital asset management solution of choice for quite some time now. This is mainly due to the diverse set of features and affordable pricing (which we'll go deeper into later).
Centralizing all your content in a single hub will make it far easier for not only team members but also clients and partners to easily access the assets they need. In this way, Pics.io helps your coworkers stay on track while also improving the user experience for your clients.
You can even integrate the tools your team already uses such as Google Drive, Slack, Adobe CC, and Zapier so collaborators don't have to hop from one platform to the next every time they try to complete a task.
The free version will probably be more than enough for most casual users with light needs. However, if you find yourself needing one of the premium features, you can always upgrade to the $18/month plan.
Teams will also be able to choose one of three subscriptions ranging from $120/month to $840/month. Regardless of which tier you end up going with, Pics.io offers two months free to all users who pay annually so that's one way to bring the overall cost down even further.
Time Management: Time Doctor
Managing your time is paramount to getting everything done before deadlines come and gobble you up. That analogy may seem extreme, but it's pretty accurate to how cramming can feel sometimes. To stave off these anxiety-inducing situations, get the right tools for the job.
The time tracking is solid, but the other features that come with your Time Doctor subscription are arguably more useful. From payroll to detailed reports and information on which websites/apps your employees use most, the extra functionality of the platform is truly handy.
Time Doctor use alerts also remind team members to avoid procrastinating on YouTube, Facebook, and other notorious black holes that suck the productivity out of carbon-based lifeforms. For some icing on the cake, you get access to integrations and cross-platform compatibility.
Take note that certain collaboration suites like ProofHub already include native time trackers, so you may want to check your project management software for similar features before signing up for a subscription.
Time Doctor's basic plan comes in at a very wallet-sensitive price of $7/month for each user. That said, you can upgrade to the standard or premium plan for $10/month and $20/month respectively depending on the features needed.
Instant Messaging: Brosix
There are already a myriad of communications platforms with all the bells and whistles but if your needs are simpler, then a basic IM solution may be a more practical path to take. Brosix is one of the best options in those cases for a few reasons.
First off, security. Brosix has long been known as one of the top picks for any company that values privacy above all else. Since being founded in 2006, the platform has quickly risen to the top of the IM space due to its emphasis on ironclad encryption.
Not only does using an internal communication network reduce the odds of data breaches but it can also speed the overall workflow up since everything is discussed within the team. It also makes projects more portable since Brosix has mobile apps for both iOS and Android platforms.
This is one of the better-designed apps in comparison to some other communications platforms. In terms of UI and reliability, it hits the nail right on the head. The only issue with it is that certain users haven't been getting push notifications properly but it doesn't seem to be too widespread.
The startup plan is free for up to three users but that doesn't let you use the P2P file sharing functionality which is one of the biggest benefits of Brosix. The $4/month business plan is probably the best bet since the per-user cost is still cheap and you can access P2P sharing.
Email Management: Mailtrap
Mailtrap is the type of service you don't think you need until you accidentally send an email from the development environment to your entire customer base. Investing in a subscription now will be well worth it in the long run even if just to avoid such issues.
The artificial SMTP server that you get with Mailtrap makes testing emails a breeze. Having a staging area is invaluable since this virtual inbox can be used to track every email sent by the team.
Having a tool like Mailtrap can make it a lot faster for teams to test new emails before using them in the wilderness. Project managers will be able to see the current state, give feedback, and then see it again when the other collaborators have revised it.
This is the real email that you're able to look at rather than just a preview. Take note that there are some additional steps that the tool makes you go through when sending emails to a "real" address but that's probably for the best to avoid any embarrassing incidents.
It's highly possible that Mailtrap has the largest selection of pricing tiers over all the other tools covered in this article. There are six subscriptions in total for you to choose from. These range from the free forever plan to $300/month depending on your needs.
Customer Support: HelpCrunch
Customer satisfaction is an integral part of any company and can truly mark the difference between success or failure. Being able to provide quality support is a determining factor in how satisfied your customers are, and that's exactly why HelpCrunch is an invaluable tool.
When it comes to customer support, specifically live chat solutions, HelpCrunch is about as good as it gets. From avatars to logos and even company color schemes, there's a seemingly endless selection of customization options.
Using HelpCrunch to provide multi channel support on a 24/7 basis is not only more cost-effective than having your human employees handle it but also gives them the spare time to better the company as a whole.
HelpCrunch can also be a great tool to use in unison with KyLeads, which we'll talk about next since they both optimize visitor engagement to boost your conversion rate albeit through different methods.
Plans start at $12/month for each user, but the $20/month tier is a better value since it offers unlimited auto messages and popups. You can also test the platform out using their 14-day free trial to get a feel of the UX before committing your hard-earned cash to a paid subscription.
Popup/Quiz Creator: KyLeads
Bounce rate is one of the scariest metrics in the online landscape since it compromises your SEO, conversion rate, and as a result your bottom line. Rather than distracting your team with issues like this, you can free up their time by using KyLeads to resolve the problem.
In essence, KyLeads helps you appeal to your target visitors through quizzes and popups while also providing analytical reports that can identify areas in need of improvement. This unified solution is one of the most cost-effective ways to increase the profitability of a website.
The dashboard is surprisingly user-friendly and intuitive with an interface design that's superior to most competitors. If you're looking to double your conversion rate in a short amount of time, then the interactive quizzes are definitely where you should start.
Integrations include Mailchimp, ActiveCampaign, Constant Contact, ConvertKit, and Zapier to name just a few, so there's quite a few combination options in play with KyLeads for the right team.
The main drawback is the fact that there's no free version available. Still, the money it will generate by reducing your bounce rate should more than pay for the subscription cost. Prices start at $49/month with the option of annual billing readily available.
Conclusion
As you can see, there's no shortage of tools that you can use to prevent the derailment of team productivity. Online collaboration is easier now than it ever has been before. There's no doubt that the continued development of these tools will further improve the remote work experience.
Whether your coworkers are in the cubicle next to you or halfway across the globe, technology has ensured that you'll be able to push forward together until all joint goals have been accomplished.
We hope that this article has helped you identify the main areas to improve in your team as well as which tools can help you do just that. If you learned something today, then be sure to share the piece with a few or two so they can optimize their workflow too!
That's all for now, stay safe, and keep collaborating!
Author bio: Jake Lizarraga is a content writer who reviews software for Chanty team chat with Kanban system. The combination of humor and conciseness makes every piece of his a fun read. When he isn't writing, Jake loves watching movies, practicing Muay Thai, and geeking out about the fact that Melissa Benoist now speaks Russian on CW's Supergirl.