⚙️ Better visibility of billable users
We improved the 'Subscriptions – Invoices & History' page and released it as the 'Users' page on the Free plan.
On paid plans, this page is called 'Invoices & History'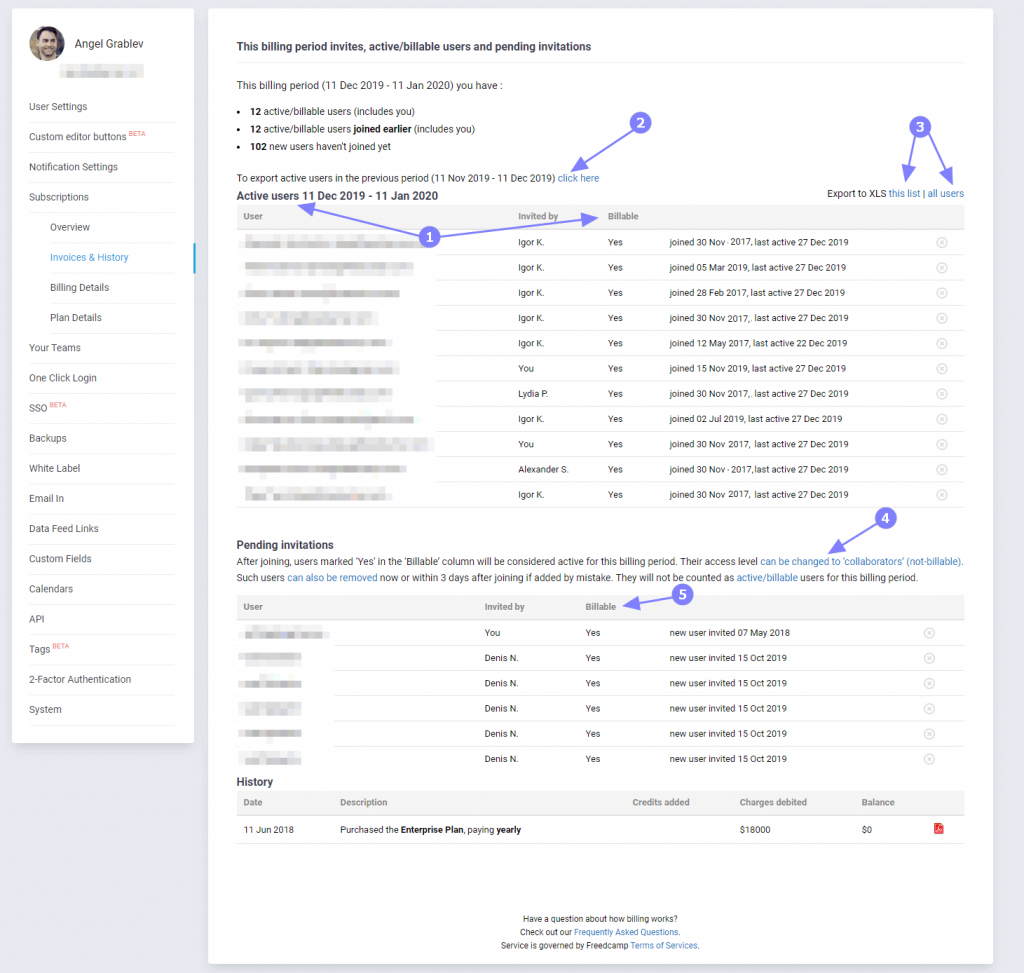 1 – you can see all users active this billing month and billable users are highlighted
2 – if you want to review your previous billing month, especially if you pay yearly, you can access it here
3 – allows exporting this list or all your Freedcamp users (see examples down below)
4 – if you have pending invitations we show you users which will become billable (5) once they join your projects ahead of time by looking at permissions you assigned to your invited users. You can also find instructions on how to make users not-billable directly on this page. Once permissions are changed, this page will immediately reflect changes.
On the Free plan, it is called 'Users' (1): 
Freedcamp uses monthly cycles on the Free plan users can see their active users for a current monthly cycle. It starts when you create your Freedcamp account.
The Free plan users can see an upgrade estimate cost for their actual active users (2). We will also show billable users, see 'Active Users' definition in our Billing FAQ, (3).
The Free plan users can also see pending invitations section where billable if upgraded, users will also be highlighted. You can also export the currently active user's list or all your Freedcamp users from this page (4).
Active users export example:
Export all active users will contain 'Billable' yes/no column with an explanation if not billable in the 'Reason' column. 'Inactive projects' will tell you if a particular person is part of only archived projects.
All users export example:
Here you can see some examples of why some users are not considered billable following Freedcamp 'active/billable user' definition. Some users were not using your projects this billing month, and some have not billable profiles. Our updated Permissions page also has better visual clues about not billable users or 'Collaborators'. 
Note: you can also export all users from the 'Manage System' page – this option is available under a cogwheel icon in the top right corner.
Related FAQ
How do I review a user's permissions across all projects?
How do I check my active users?
My user licenses have been exceeded – what shall I do?