Exciting Calendar Updates: Event attachments, RSVP, Comments and external participants
In the last few months, we have added a lot of new things into the Freedcamp Calendar app to make it easier to organize and run your events!
Here is a summary:
1. We added recurrence (1) and allowed you to invite people outside of Freedcamp by simply typing their email address (2). These external event participants can RSVP from the email invite as well as add the invitation to their calendar.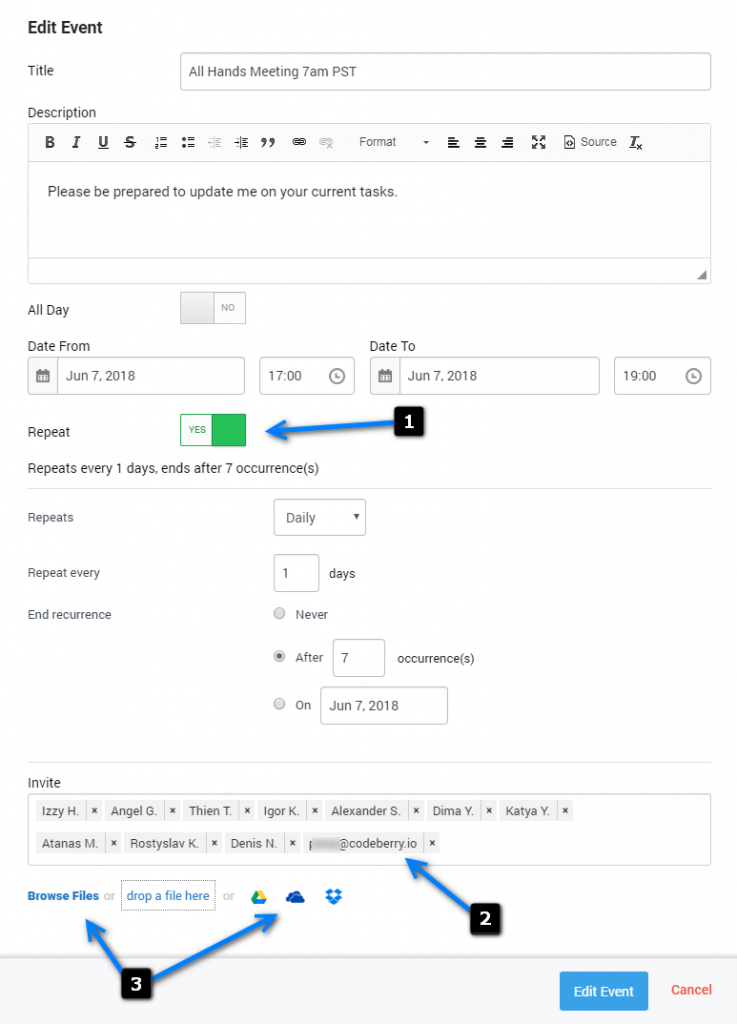 2. You can now attach files to events – see (3) above. Adding Google Docs within a meeting agenda, allows participants to effortlessly update simultaneously.
3. Calendar events now support comments so you can reply to an email notification, and post your notes right from your inbox's RSVP.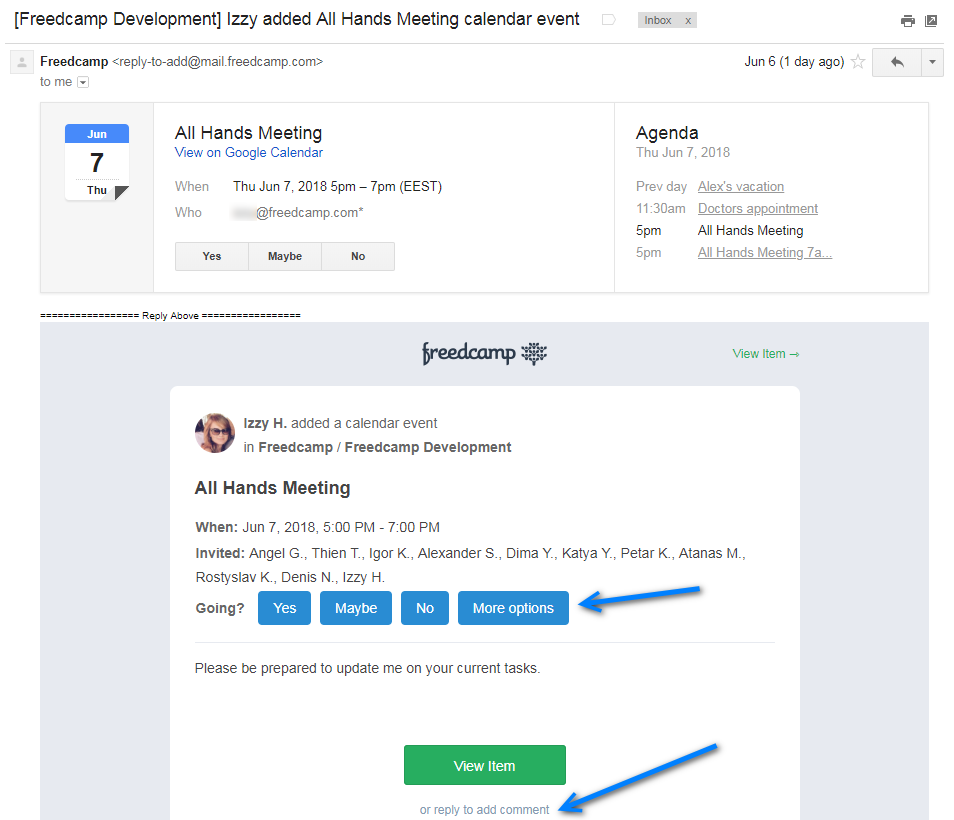 4. Both Freedcamp users and external participants RSVPing from email will be redirected to a brand new page to provide their response.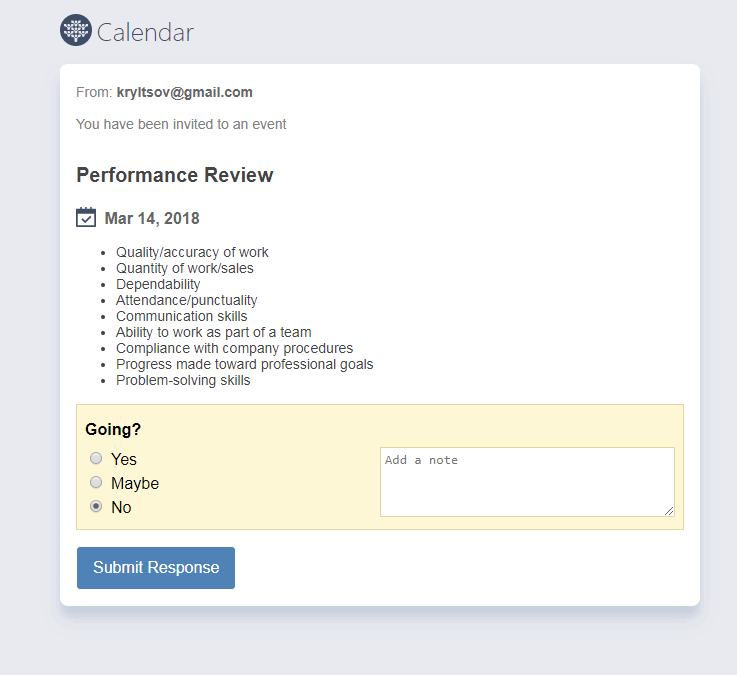 5. The event organizer can request RSVP responses to be emailed (1) as well as ask Freedcamp to send an invite (2), (we never send you email notifications on your own actions). In this example, you are creating a new event, but here we made an exception, in case you do not use calendar sharing and want to receive an invite by email to be able to add it to your external calendar (Outlook, GCalendar or iCal).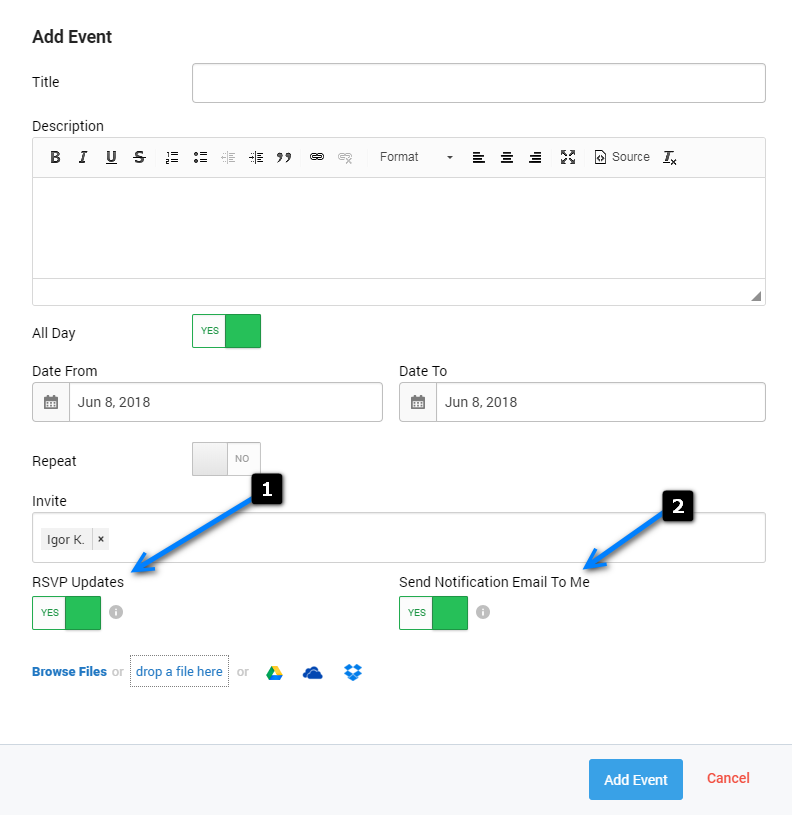 6. As the event organizer, if you requested RSVP responses, you will receive notifications that look like this when invitees RSVP.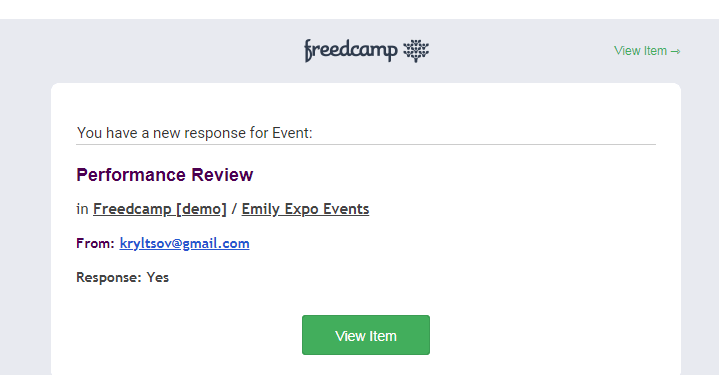 7. When you hover over an event, you can now see more information.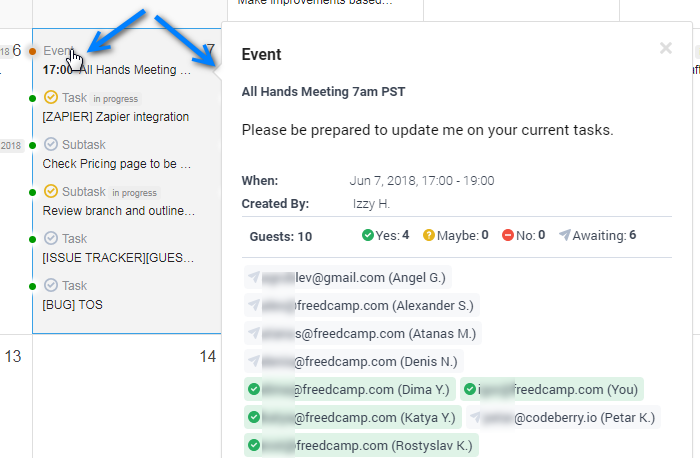 8. You can view comments (1), which supports attachments everywhere in Freedcamp.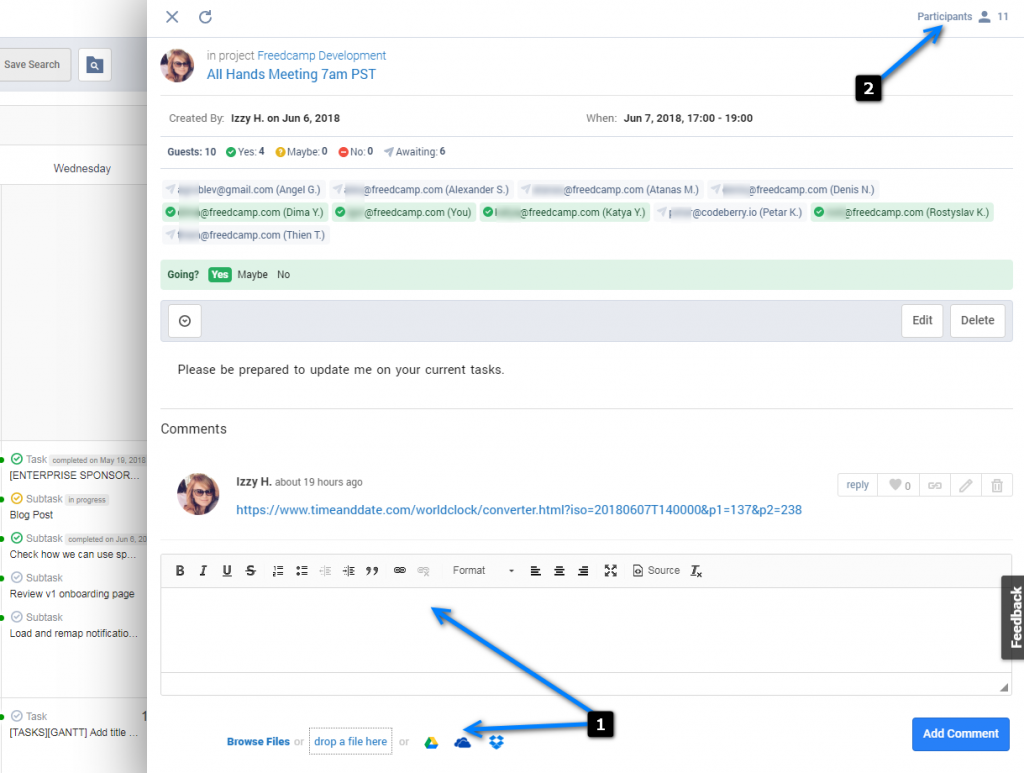 9. Easy access to 'Participants' interface allowing you to bulk invite Freedcamp users quickly – please see (2) above. To invite external guests please 'Edit' an event.
10. To add/remove participants simply click "participants"(1). If you need to expand the participants' list view, simply click "View all users"(2) option at the bottom.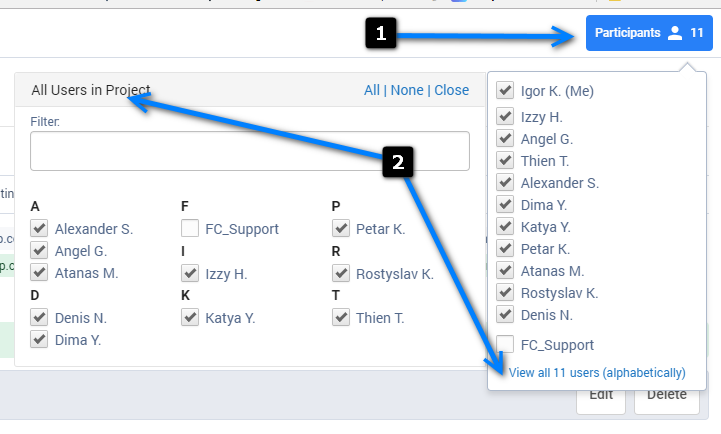 11. When you follow an event by a link inside email notifications, you will see the stand-alone Event page.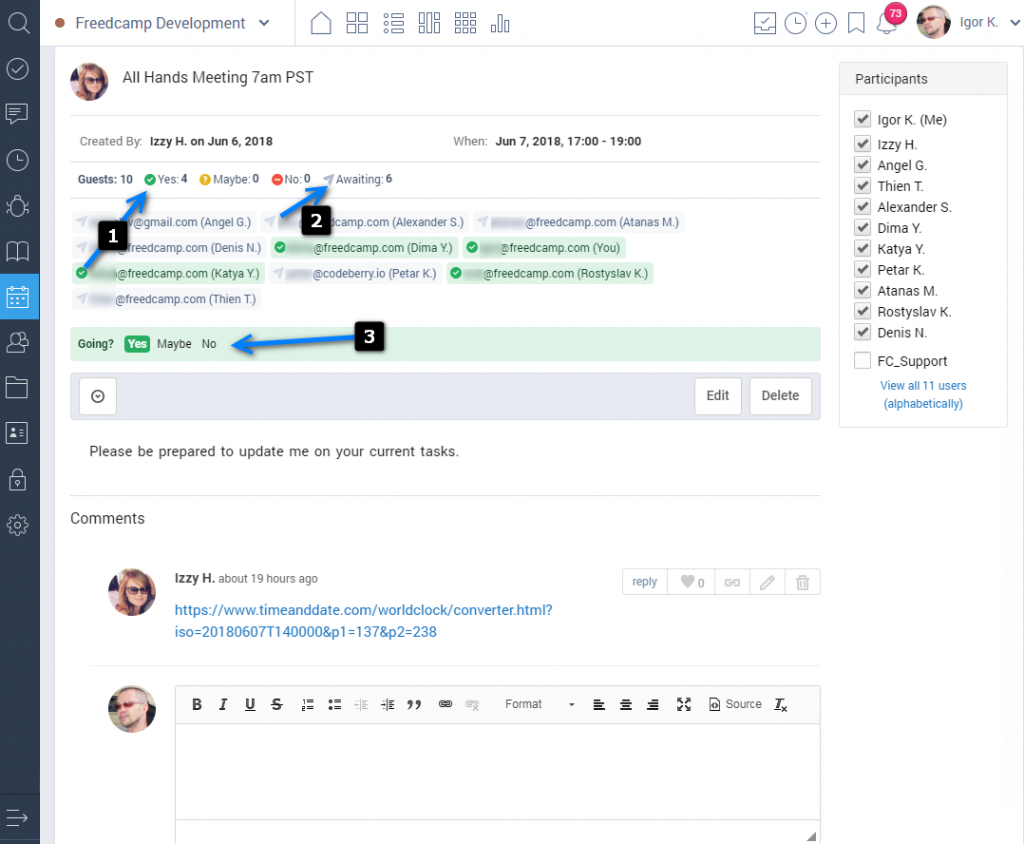 Both stand-alone and sliding panels allow you to see participants' responses (1) and (2) as well as change your own RSVP response (3).
We also made a bunch of improvements in the way that we push to external calendars regardless of whether you share Freedcamp calendars by a link or use Google Calendar. If you have a premium plan, the calendar app also instantly syncs with GSync.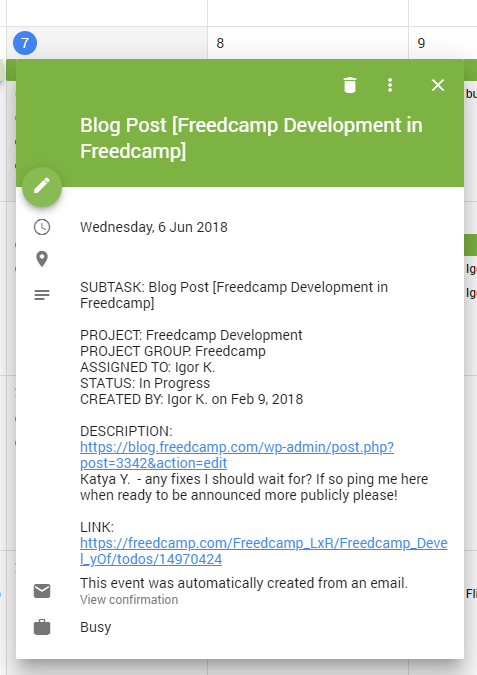 All tasks and event attributes are now present including a backlink to Freedcamp.
For shared events we also add your own RSVP response to an event title: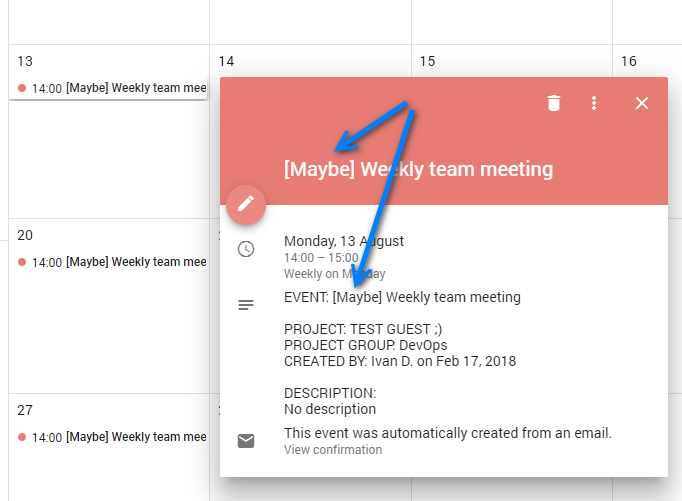 If your calendar sharing uses filtered results with only "my stuff" to be shown, if you respond 'No' in an RSVP, for example, you will not see that event inside your external calendar after responding 'No'.
We are excited to announce these changes which we worked hard on making available to all of you! We hope you find them very useful.