How to remove HTML from XLS file you exported from Freedcamp
A few days ago we received a request from Tom:
"We add notes for each task into the description field and export weekly for status updates on our projects. Our clients are often corporate clients that may not have access to login to Freedcamp.
Currently, we have been doing a search and replace for all HTML markups in the document."
Yes – recently we added rich text editor to To-Do's. As a result Excel file you export from To-Do's may contain HTML markup as shown below: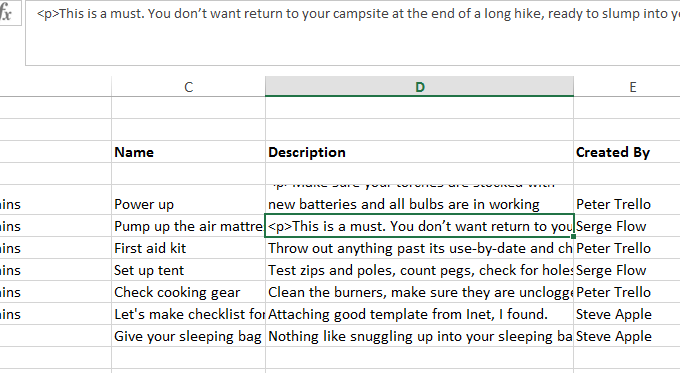 We brain stormed ideas how to fix it with minimal efforts. Sometimes fastest and working way is not Freedcamp's improvement. Next day I received a reply from Tom:
"I have attached a macro I created that will remove the HTML markers and create a dash for all bulleted items. Feel free to reuse if someone has a similar request. If they save to their personal workbook, it will be available for any spreadsheet they work on in the future."
Here it is – MS Excel macros Tom shared with us in a ZIP file: Remove_HTML_Freedcamp_exported-XLS.zip. Here are some instructions from YouTube about adding and running a macros in Excel.
Otherwise you can simply use find/replace in Excel as described here.
Thanks Tom 😉 for sharing this workaround with Freedcamp community!
Update from Tom:
To be thorough – I have attached two files (ZIP file)
– Strip HTML – this will purely strip the HTML from the doc, and make bulleted lists display as '–'
– Strip HTML withColumns – all features of StripHTML, plus deletes the Type, Created By, Date Created, due date, date completed. I made this one, because it is much easier for clients to review weekly documentation without the extra columns.
I also made a quick video for you:
Thanks for the great product 🙂
Please say 'thank you' to Tom Coltrain