4 Project Management Tips for Content Managers
If one of your plans for this year is to invest more in content – great! This is an amazing strategy to help bring more awareness to your brand and establish your authority in the industry.
However, developing content is not just about posting cute pics on Instagram or Facebook. Your content strategy needs to be well-thought-out, otherwise, your investment in it will go down the drain.
If you're having a hard time organizing your content strategy, some project management practices can be of great help.
Why project management?
Let's take a look.
Which Benefits Can Project Management Practices Bring to Content Managers?
If you choose to act like a project manager when working on your content, you'll be able to enjoy one main advantage – your content strategy will be more structured.
The main component of successful project management is workflow optimization, or, simply put, planning. With it, you will be able to:
give your team a clear sense of direction when working on the content
reduce errors in the content development process
better maintain consistency
improve teamwork and communication
To define your content workflow, Jennifer Bridges, a certified project management professional, recommends comparing how you operate now vs. how you want to do it in the future. As a result, you will have a better understanding of where your current content workflow has a blind spot and what you need to do how to fix it.
Analyzing your current content workflow is the prerequisite of building a new, more effective one. And, naturally, it will be different for each individual case.
However, there are a few tips that can help you optimize your content workflow regardless of your current situation. Let's take a look at them.
1. Don't Skip the Project Briefs
Content development is a creative process. It's very easy to get carried away and deviate from the idea that the content was supposed to represent initially.
That's why you need to incorporate project briefs in your content workflow.
Just to give you an idea of what it is, a project brief is a short summary of a project. Its main goal is to help you:
set the goals for the project
outline the scope and the scale of the project
define your target audience
But the major advantage of a project brief, especially for content managers, is that it contains all the project KPIs. As a result, you have a better idea, which metrics will be involved in estimating the success of your project.
For example, if you're planning on developing content for link building, your project brief will specify that you will track it through the growth of referral domains:

As a result, you and your team will have a clear understanding of how to evaluate the performance of your content and make timely adjustments if your content marketing campaign is underperforming.
2. Standardize Content Creation Using a Content Calendar
If your goal is to build up content awareness with the help of content, inconsistency is the main thing you should be avoiding. That's why, to optimize your content workflow and make it more efficient, you need a content calendar.
Content calendars have always been a standard thing in any project involving content. Also known as editorial calendars, they help organize your content by date and stay on schedule with the development of new content.
An efficient content calendar consists of the following elements:
the content title
the name of the author or person responsible for developing content
the date of publishing
the campaign that content is related to (if you have several campaigns going on)
the link to the shareable document
This structure is recommended for campaigns that involve a lot of content. But, if your brand is small, you can simply use a calendar format to schedule your content: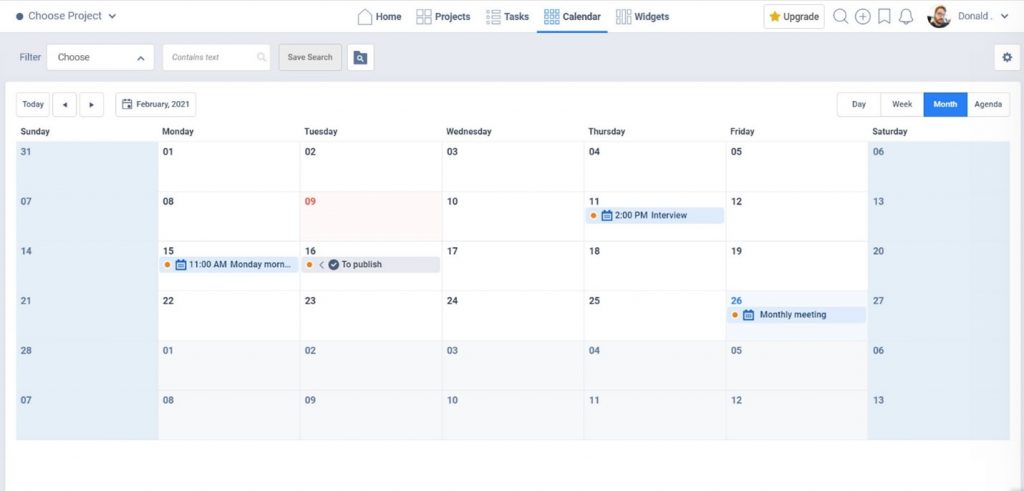 Of course, if you're planning to upload content once or twice a week, you will hardly need a content calendar. However, there are situations in which having a content calendar is a must.
For instance, if you are developing content with somebody outside the company or outsourcing it to the best essay writing service, you will be required to create a shared document with a calendar. Otherwise, due to possible misunderstanding and misinterpretation, you might end up with content that doesn't fit your expectations.
You can either create a content calendar using Excel spreadsheets or MS Word documents. Or, if your website is using WordPress, there are plenty of editorial calendar plugins that you can set up for free and share with your team.
3. Optimize Communication Tools for All Project Participants
One more thing that is an absolute must in project management, which content managers can also take advantage of, is creating encompassing communication channels.
Let's face it – when your content development project involves a lot of participants, it's not efficient to communicate with all of them via email. That's why you need a solution, which would allow you to create multiple chatrooms and manage them.
For instance, Slack can be such a solution. There, you can create group channels as well as chat with each member individually:

In Slack, it's also easy to navigate the message with a search bar located above the chatroom window. It's a great way to connect your entire content development team to one channel.
Is it really necessary to invest in a solution that optimizes internal project communication?
It's advisable, especially if your team consists of more than 2-3 people and you're working on a big project together.
Also, a unified communication channel is a must for those who work on the content together with content development agencies. For instance, if you are working on a case study with the best research paper writing service, such a channel will help you keep track of the milestones, quickly resolve issues, and simply make sure that everything is going according to the plan.
Are group communication solutions expensive?
They are quite affordable, even for the smallest brand. For example, a Slack Standard plan only costs $8 a month per active user, but there's also a free plan if you write less than 10K messages a month. Besides, there are also options like Google Hangouts, which you can use completely for free.
4. Invest in Automation
One more essential part of successful project management that all content managers can also take advantage of is investing in automation tools.
Automation can take care of receiving notifications, generating reports, and even completing routine tasks. As a result, you can make your content development workflow more efficient and take some work off your team's shoulders.
Which tasks can you automate in the content development workflow?
keyword research with tools like SEMrush and Ahrefs
email outreach and follow-ups with autoresponder tools
content monitoring with solutions like SimilarWeb and Google Analytics
proofreading with tools like Grammarly and Hemingway App
On top of automating these tasks, you can also take advantage of project management tools that allow you to assign tasks to a certain team member, set and track milestones, and track the overall performance of all campaigns involving content.
Wrapping Up
There is no doubt that each brand has its own content workflow needs depending on the goals and resources. However, there are a few must-haves that every content management team should have regardless of its content development plans.
A consistent content development workflow starts with project briefs that help set the goals and KPIs for each project. Next, to help you track the progress, you need a content calendar that you will share with your team.
On top of that, if you want to develop content properly, first, you need to set communication channels, through which you can quickly hit any team member and discuss the content you're creating.
And, lastly, to help your content management team optimize the workflow, you need to invest in project automation tools that will not only help you create high-quality content but also allow your team to work more efficiently.
Author Bio: Donald Fomby is a Digital Marketing Specialist with a Master's degree in Advertisement. At a relatively young age, he has already amassed impressive experience as a freelance writer. He partakes in different projects that allow them to grow his list of experiences and expand his interests.