Duplicating a Task is here
Much awaited feature request to copy and move tasks was just launched. You can duplicate tasks within Freedcamp! For premium plans we have also added the ability to copy a task into another project.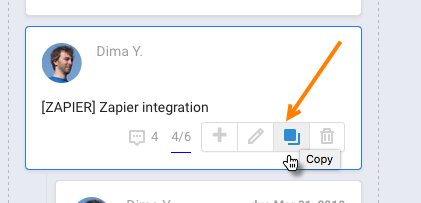 What is supported?
– Subtasks – copied. All notes below equally apply to premium subtasks as well.
– Created By – always copied regardless if a creator is in a target project or not.
– Created Date/Time – always the same as a source task so we don't end up with date completed less than date created.
– Due Date
– Assigned To – removed if a user is not in the target project or have a read-only or guest profile. Also, all assignees in a task or its subtasks will get notified about new task/subtask assigned.
– Priority
– Start Date
– Completed Date
– Progress as % completion – yep we have this option on Freedcamp Business.
– Files – since we support file versions we decided to copy the last file version only. Comments for files attached to tasks and posted in Files application, if you use them, are not copied.
– Custom Fields – copied if same custom fields are enabled for a target project.
– Link to a milestone – not copied.
– Subscribers/followers – copied if part of a target project.
– Comments – copied as well as files attached to those comments.
– Dependencies – Business plan users can set dependencies. We only copy dependencies between tasks and subtasks copied.
If a task and/or subtasks have files attached copy process is completed in the background and you receive an email when completed. It should not take more than 2 minutes. If no attached files – you have a new copy instantly ready.
We will be adding an ability to copy subtasks next week.
Next steps?
– copy task list in the same (all plans) or another project (all premium plans) – end of March
– move tasks and task lists to another project (all premium plans) – early April