The Top 5 Free Project Management Software Tools for Small Business and Start-Ups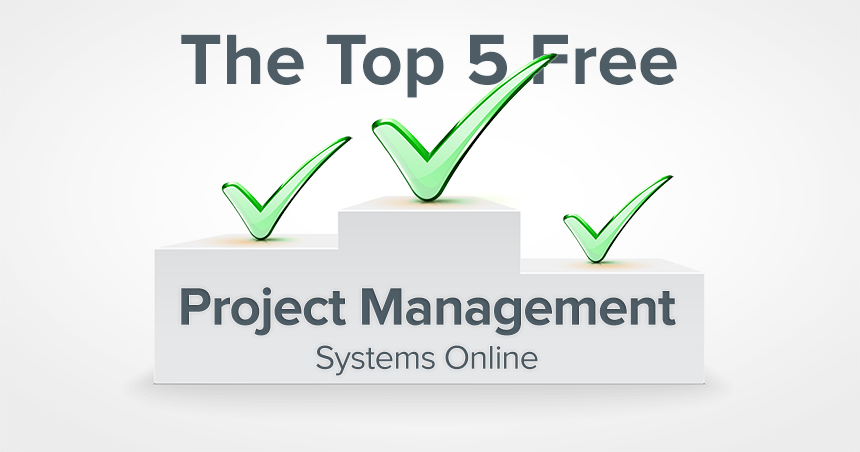 Why Free Project Management Software?
It's simple, you need a solution to stay organized, a tool that will help you and your team be happier and more productive. It wasn't long ago when the only way to enjoy any free collaboration required installing some open source software and dealing with some of the worst user interfaces. Today, just like email or social networking, collaboration is finally free. There are some amazing free project management solutions available and you should really try at least a few.
First let's outline what a Free Project Management Software means. It must offer Unlimited Users & Projects, otherwise it's not really free. And for this article we focused only on systems that run on the web, simply because you probably aren't a server expert who wants to run your own system.
After extremely thorough research and testing of each of these 5 systems, we've concluded that the order is as follows.
The most balanced project management software on the list is Freedcamp. Packed with advanced features, the interface remains clean and intuitive.
When it comes to pure numbers it has the most comprehensive offering for collaboration, offering tools like Discussions, Milestones, Time Tracking and an advanced Calendar.
It also has a great notifications system, keeping me informed of what's happening with the items I follow. The customizable Dashboard also sets it apart by giving your team the ability to customize their experience based on their preferences. There are four different Dashboards: Projects Cards, Tasks Board, Calendar, and Widgets.
Ratings:
User Experience and Flow
Ease of use
3.7
Feature Quantity and Quality
Of free features
4.0
Product Beauty
It's always nice when it's easy on the eyes
3.5
Productivity Feeling
When using it do I feel more or less organized
4.5
Total Score
The combined average
3.9
One of the most used project management software tools online is Trello. Getting started is fast and easy. However the interface is in dire need of a refresh. Also, it lacks some of the advanced functionalities you will find in other systems on this list. Trello allows you to integrate with a huge number of services, but for the free plan you can only choose 1. Having to use a third-party system, to fill functionality gaps, defeats the point of simple collaboration as you have to use two systems.
Overall the Trello is very fast and becomes intuitive after the initial setup. I would definitely keep an eye out on Trello, as I am confident they will be releasing a new design and many new features soon.
Ratings:
User Experience and Flow
Ease of use
3.8
Feature Quantity and Quality
Of free features
2.9
Product Beauty
It's always nice when it's easy on the eyes
2.5
Productivity Feeling
When using it do I feel more or less organized
4.1
Total Score
The combined average
3.3
MeisterTask is the cool new kid on the block. It's fresh, it's hip, but being young means it lacks the polished touches other project management software tools have. Visual glitches make the product look as if it was rushed and left unfinished.
It also feels a lot like Trello, which isn't a bad thing, but it should have copied a lot more of the things that make Trello great. All of the little things that are half-baked end up making the system a hard choice.
However, being beautiful and free, this system is still a great addition. Even if you have to suffer as they continue to fine tune the product and add the full range of features you see in Trello.
Ratings:
User Experience and Flow
Ease of use
3.2
Feature Quantity and Quality
Of free features
2.0
Product Beauty
It's always nice when it's easy on the eyes
4.0
Productivity Feeling
When using it do I feel more or less organized
3.2
Total Score
The combined average
3.1
Producteev was on a great path to becoming one of the top choices for project management software, until it was acquired by Jive. Since then, the system has become stagnant and it's quite apparent.
It does get the job done if you're willing to settle with the clunky and complex interface. All the basics are there, and after all it is actually really free.
Ratings:
User Experience and Flow
Ease of use
2.8
Feature Quantity and Quality
Of free features
2.5
Product Beauty
It's always nice when it's easy on the eyes
3.1
Productivity Feeling
When using it do I feel more or less organized
3.2
Total Score
The combined average
2.9
Bitrix24 on paper is the most advanced system, it lists many "features" on their pricing page set as free. If you looked at the list it would easily be the solution to choose, but you have to try the product before you make that decision. The problems start when you actually sign up and try using the system. Look below for complete report of issues we found within minutes of using the system.
Overall the interface isn't too bad, but the complexity is instantly overwhelming. Selecting the navigation on the top left opens 3 lists with 30+ items. Within seconds you have no idea what to do, or how to do it. Using many of the features, you begin to realize they are mostly half-baked and at times literally not functioning at all. I was not able to add a Lead to the CRM no matter what I tried. It kept saying "Invalid Character" and all I typed for the Category was "Test".
This is project management system you can just skip over, it will not add much value to your team.
Ratings:
User Experience and Flow
Ease of use
1.5
Feature Quantity and Quality
Of free features
3.0
Product Beauty
It's always nice when it's easy on the eyes
3.5
Productivity Feeling
When using it do I feel more or less organized
2.5
Total Score
The combined average
2.6
Free Project Management Software Features
| | | | | | |
| --- | --- | --- | --- | --- | --- |
| | Freedcamp | Trello | Producteev | MeisterTask | Bitrix24 |
| Unlimited Users & Projects | ️ | ️ | ️ | ️ | ️ |
| Storage Limit | Unlimited | Unlimited | Unknown | Unlimited | 5GB |
| Internal Social Network | ️ | | | | ️ |
| Task Views | | | | | |
| – List View | ️ | | ️ | | ️ |
| – Kanban View | ️ | ️ | | ️ | |
| – Gantt Chart | Paid | | | | ️ |
| Reports | | | | | ️ |
| Time Management | ️ | | | | Paid |
| CRM | Paid | | | | ️ |
| Forum | ️ | | | | ️ |
| Milestones | ️ | | | | |
| | | | | | |
| | | | | | |
| | | | | | |
| | | | | | |
| | | | | | |
| Price for top plan | $8.99/user/mo | $9.99/user/mo | $0.99/user/mo | $7.50/user/mo | $199/mo |
| | | | If less than 100 users | | Unlimited users |
System Flaw Review
In order to provide maximum transparency in our decision-making process, here is a list of issues we found in the systems we reviewed.
Bitrix24
Support for smaller screens less than 1200px is broken and you have to actually scroll left and right, so the web application is not responsive.
After changing the url of my organization, I was logged out, and when i tried to login, my credentials didn't work. So I was effectively locked out of the system within 1 minute of using it.
The interface felt extremely overwhelming. It's not really clear what actions I should take.
A large portion of the header is used to display the time, I already have enough ways in my computer to know the time, this seems like complexity for the sake of complexity.
I tried to edit my profile image, but the button did not work. Then after about 20 seconds the button finally let me click on it.
The UI looks nice, but a lot of elements feel unpolished, like the checklist add button or adding a tag.

After I added a few tasks I had no idea where they were added.
Navigation overall feels difficult to use and overwhelming.
I tried adding an event from the Clock drop down and nothing happens. No errors, nothing.
Speed is not one of the features of Bitrix, opening a page can take as long as 15 seconds. I have 180Mbs internet connection and a top of the line iMac.
The vast amount of features and information is very overwhelming. Data is not structured and organized, so it becomes a chore to add a lead in the CRM app.
I tried adding a CRM lead and it gave me an error on top of the page (rather than next to the field) "Opportunity field contains invalid characters". All I entered was Test, I even retyped it. So I can't add a Lead.
Some areas of the system look great, however many look like a plugin that was used and never restyled to fit the rest of the design. In turn the overall design experience is extremely inconsistent. For example, when adding an event in the Calendar or a Task, you notice both have different footer buttons. The Add button is on the very left as it should be on the Task screen, but it is situated towards the middle for the Calendar. Having these small inconsistencies makes it very easy to click the wrong button.

The search bar on top states "find people"… but I tried searching for a task and it shows me "Other: Title", which doesn't mean much to me if I didn't know this was a task already.

There is a button to make calls on the bottom right of my screen. I am not sure how many people actually want to use this for collaboration purposes. And you can't use it for Free either, so it's just there, taking up space and adding complexity.
Producteev
The interface feels quite busy. Some elements don't seem to be useful or out-of-place.
It seems to be hard to find how to add a task when you open a project. The + button I clicked was to create a new project.
When adding a task I have no way of specifying any options.
I opened a task, clicked Esc key and it did not close.
It appears to be a simple Task system without many of the features I would need to be productive.
MeisterTask
Some visual elements seem unfinished, in the on-boarding screen the buttons extend to the ends of the surrounding box when trying to add an avatar.
To me this is an indication that the product was rushed, and polishing will take many months if not years, as I am sure they are also focusing on adding new features, leaving little time to go back and improve existing items.
After a task is added, there is no indication anything has taken place. I clicked Enter after typing and nothing happened. So I stood there for 5 seconds thinking it's uploading to the server, making it slower to add a second task.
When dragging a ask into a new column there is no indication that you are about to drop into that column.
Clicking on any dropdown button opens content, but when you click it again, instead of closing it opens again.
On dashboard it shows you time tracking, but after prolonged searching I can't find any place to actually add any time entries.
Even though the aesthetics are much better than Trello, I get an overwhelming feeling that I am looking at the same system.
On the task page, I can't use my mouse to drag around and see my columns, like you can in Trello.
Freedcamp
I didn't know right away how to view the Kanban View.
It's not obvious right away how I can install the additional free Applications.
I applied a filter and didn't realize that it stayed active when I came back to the page, so I thought I lost some tasks.
The interface is nice, but it lacks some design enhancement that modern designs would have like MeisterTask. For example the Discussions applications feels like an older design than the Kanban board.
Trello
After signup you just see an empty page, so no real on-boarding. I'd love to create my first project, or upload an avatar (which takes 4 clicks) to make myself more personable to all those joining my project.
In its simplicity, Trello makes it hard to really know who is working on what, which tasks are overdue, and so on.
Interface felt like it was designed ages ago, losing points for aesthetics. For example adding a list looks quite ugly.

Simplicity is great, however it instantly starts dawning on me that it's lacking so many productivity features I'm very much used to.
In Closing
It's great to see that there are now a number of free project management software options for you or your team to use. We hope the thorough reviews help you make the right decision when looking for a system. Try to choose at least two systems to try to compare what you like and what you don't like.
Feedback
Appreciate our hard work? Please share this! There are some links below.
Have feedback? We'd love to hear it. If you feel we've missed a feature, or maybe you prefer the design of one project management software over another, let us know here. We'll gladly update the list as often as needed to reflect new features, and add new systems.
If you are interested to see an article about paid project management software, please add a comment!
Disclaimer
Wondering why we created a list like this? It's because every list we've found online is genuinely not a good representation of the state of Free Project Management. How do we know? We're the very first system of this kind, which means we've seen hundreds of systems launch over the past 9 years. The whole team gets excited and we all sign up, we rigorously test the new system and put it through its paces. We love to see original ideas, beautiful designs, and overall productivity shine. We also care a great deal about our users, so whenever a user's needs were not met with our system we gladly recommended an alternative solution that does. Over the past two years the number of times we've suggested an alternative has become extremely rare, as our system has been adding hundreds of features to accommodate every type of user. To us the goal has always been the same, get teams everywhere to be more productive.