Notifications are not just via email anymore in Freedcamp
Our goal is to allow you to completely free your Inboxes from Freedcamp emails if you wish. We just released out new Notifications page. Let's call it version 1.3. Why 1.3? This is because we felt a need for it and released it internally improving a few times before deciding that it is ready to be released for all of our users.
Please meet new Notifications page.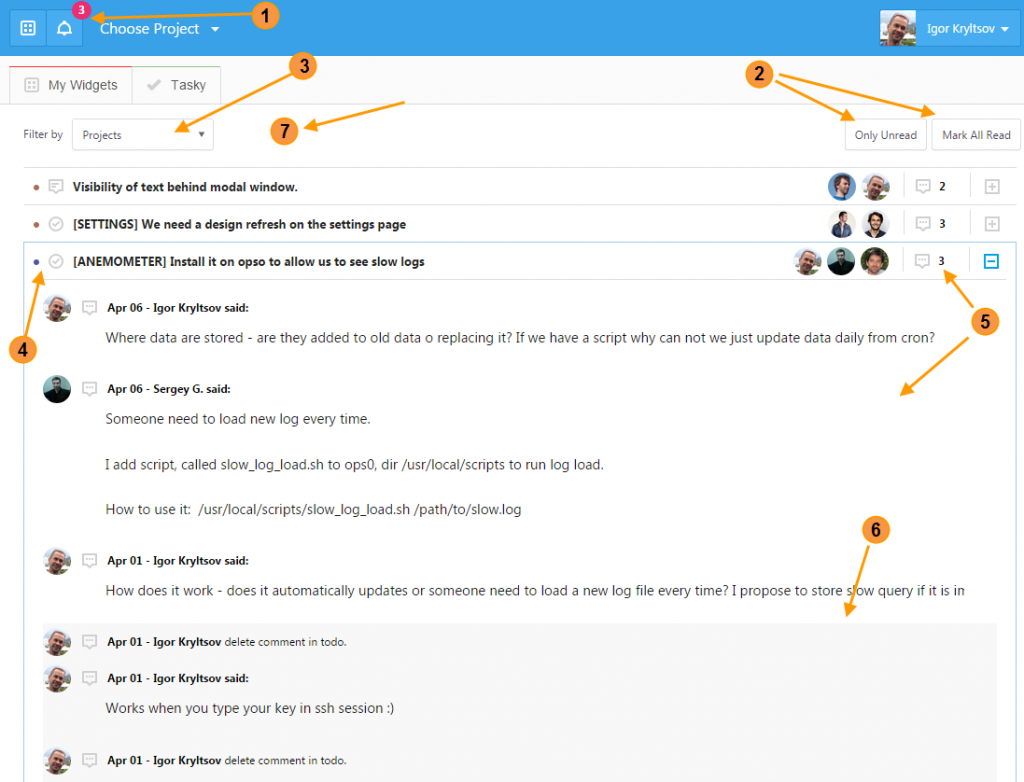 (1) – it is accessible from anywhere in Freedcamp and shows new unread updates for you
(2) – you can easily switch to see only new/all updates or mark all updates as read
(3) – if you have multiple projects and like to walk through updates by a project – we added a filter
(4) – each line is prefixed with project color (hover to see project name if needed) and application icon – easy to see if it is a discussion, to-do or a file update.
(5) – we show you how many unread updates are inside when you expand by clicking to open it and …
(6) – we put on a darker background updates you already read but still keep them to make it easier to follow.
(7) – very soon we will be adding another filter which will respect your notifications settings shown below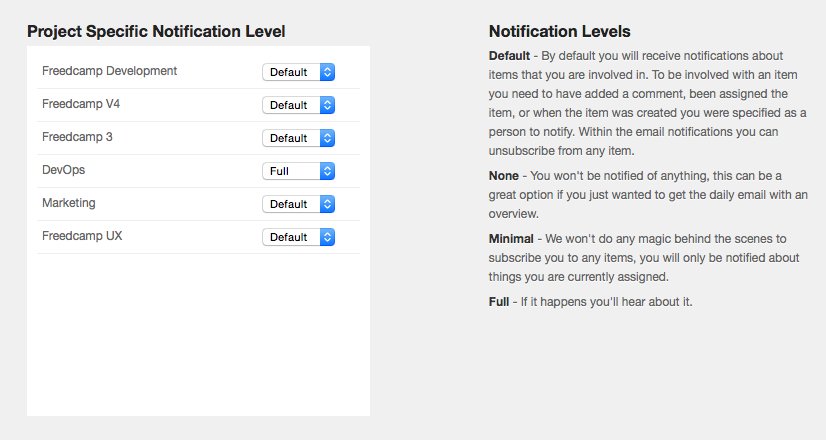 At the moment we show all updates in projects and applications you have access within even your settings set to 'minimal' or 'no notifications', for example. So a new filter will have two options – 'all updates' and 'my updates', where last one will take in account notifications settings set on 'My Account' page. Once this filter is added we will update Notifications settings allowing you to select separately notification levels per project and if you want to keep getting emails with updates.
We are also planning to add thumbnails and previews for attached files. You will also see more descriptive messages, where now we just say 'updated' or 'edited' (showing wireframes):

If it is a to-do or a milestone with a due date and it is assigned to you – you will also get reminders from Freedcamp visible only to you: