Using Bookmarks as QuickLinks
As we're building our upcoming Version 3 of Freedcamp my time is split between working on the current Version 2 and V3. We're constantly improving V2 with new features and improvements, however at the same time we are building almost an entirely new system. At first I had a hard time separating the two and quickly navigating to them, but I came up with a creative solution that I think would benefit most of you working on multiple projects.
I am using my bookmark bar to quickly access my most important places, these include To-Do's and Discussions in both Versions, and of course my favorite apps Tasky and Password Manager which I probably click on 100+ times a day. So without further ado here is how my bookmarks look: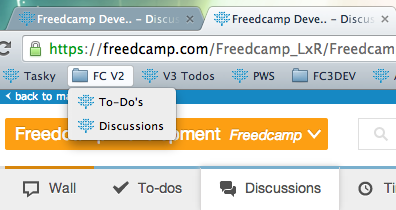 I can't tell you how much time this has saved me.  You can do this for all your projects and as many apps as you need.
We will also be supporting this natively somewhere in V3.X with a fully customizable project picker that will allow you to see most popular / latest active / bookmarked favs. However in the meantime the above trick should do the job.