Version 2.6 Release – The biggest update since Version 2
Dear Freedcamp User,
We have been silent for a while, not because we haven't been working around the clock, but we've had to address some important structural changes to our platform. We've been working hard to ensure the quality of our application never falls short of your expectations, or ours.
What has taken the largest amount of our time was building quality tests that automatically test every single functionality inside Freedcamp, ensuring you have the same wonderful application with all the functionality in tact, always. What this really allows us to do is create drastic changes in the system, and then quickly verify everything is still 100% functional. I'm sure you've ran into strange issues that you simply couldn't understand… that's in the past, we've turned a page. Along with the new testing system we've completely rewritten every single function in Freedcamp to provide us with instant feedback if anything goes wrong. You don't even have to send us an email, we'll know as soon as you do.
Okay enough with the boring stuff, we did also work on some pretty exciting features that I am fortunate to share with you today. So let's see what's happened in the past couple of months:
Project Search:
We've had countless requests to provide search functionality within Freedcamp, and even though it sounds easy in theory, it's not. Allowing a user to search through thousands of rows of information in a split second is actually system intensive and can slow the experience down for everyone, so instead of a global Freedcamp search we've narrowed down searching to inside of a project. Here is what it looks like:

Custom Project Ordering:
Something that seems to be a common occurrence, is the serious amount of projects that seem to  take up space in our project switchers. No matter how well organized, and how quickly you deactivate the completed projects it can easily get out of hand. So to reduce the hardship we've added the ability to sort the projects inside your project switcher as you wish. We think you can do a better job ordering them, than us.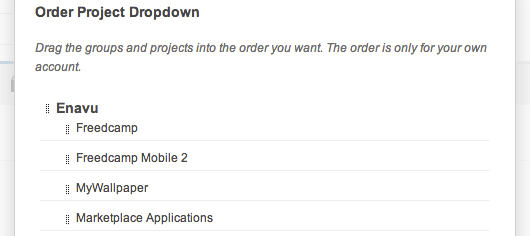 New Content Editor (WYSIWYG) with Ajax Comments:
When we were building Freedcamp Version 2 we really wanted to push the boundaries of what's possible on the internet so we chose a rather risky path. That was using the latest technology called Content Editable to provide most of our WYSIWYG editors (ex: adding a comment) however this quickly became a poorer experience than we wished. No matter how many hours we've spent improving, extending, modifying, and researching this technology it continued to give our users a hard time. So as of now throughout the platform we are using the very best WYSIWYG editor on the market and it is a breeze to use. Paste from anywhere, format as you shall, it will just work.
But we didn't want to stop there, we decided comments were a vital part of our system and could use even more love, so we fully ajaxified them. No more page reloads, or waiting for anything, just create content, fast. Oh yeah, and we revamped the design so it's more pleasing to the eye, contains content in a much easier to read format and uses the space on the screen even better.
Todo Improvements:
We talk to our users constantly and something we've learned is that most of you guys love using the Todos application. So we've added a couple improvements we feel will make a huge difference in the way you use the application.
Collapsable Groups allows you to click on the title of a group and have the contents of that group remain hidden until you decide otherwise. We are using your browsers storage so this is just for you, not your whole team, but you. Even though it's always a good idea and try to split larger projects up into smaller projects that are more focused we seem to find ourselves working on three different things inside a project (ex: marketing, development, brainstorming) and that creates groups of Todos that give your wrist a hard time when you have to constantly scroll through them. No more we say! Hide the groups you're not interested in.
Todos Links provides you with a link per Todo basis which helps in a few ways. First it makes it really nice to go into a Todo, click the back button and be back at that same Todo . Granted we're not planning on keeping the multi page system for long (think version 3) but for now this has made a huge difference in our usage of it. Go one step further and you can actually send people a link to a Todo directly inside the main Todos page and it will automatically scroll them to the Todo you wanted.
Delete Confirmation Dialog:
We've had people mention this a couple of times, but deleting things with that annoying browser alert is a thing of the past, stone age! Deleting a todo takes an extra 0.852 seconds… who has the time. We have re-engineered our delete confirmation with a one of a kind new dialog. It's pretty, appears directly next to your curser, and saves you a combined time of 12.21 hours… well maybe not that much but you get the point.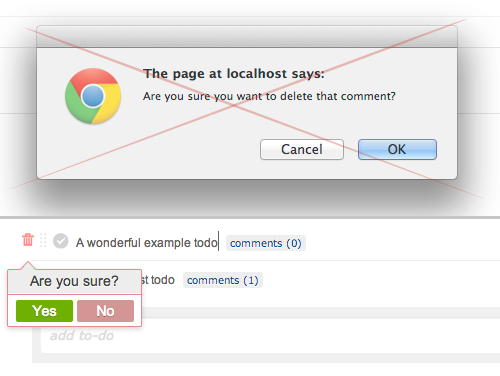 Google Calendar Sync with Freedcamp Calendar:
Yup, it's here. You can now synchronize all your due dates using our Calendar application to automatically push those events into your Google Calendar. This means all the devices you've set up GCalendar on now are also Freedcamp enabled devices that will help you keep your projects on time. Granted it is in beta for now, we're releasing it simply because of the crazy demand. We seem to experience a connection issue between us and google every 1/10 times, but it seems to work just fine afterwards. At any rate, I've been using it for a couple months now and it's been a life saver, literally. We'd love to hear your feedback!
Activity Widget Improvement:
The widget system is due for a very awesome overhaul in our next releases (think fully customizable widgets… anything you want to see in a simple 10 entry widget) however before that comes into play we added an important improvement to our Activity Widget. It's the widget used by the most people, and has the greatest potential for keeping you in the loop on what's happening in a project, or 10. Until now you've only been able to see a very general statement of what's happend "Angel added a todo.", as of now though it will also include a snippet of the actual contents of that todo, or discussion and so on. So directly from your dashboard you will be able to have a clear understanding of what's happened.
Marketplace:
We have faced some rather unfortunate issues with our billing system, but in an attempt to at least keep you in the loop right away we've added a fully ajaxed way to checkout and it will give you a much better understanding of what may have gone wrong (ex: wrong expiration date, etc).
That's about it, won't bore you with all the maintenance fixes and bug squashing. Instead I will continue our tradition from last year and reward all those who have read all the way down here with a little present from Freedcamp, you get any of our applications for 2 months, completely free, shh we know! Use coupon code: XMAS2012 and you will get two free months.
Happy Holidays!
Stay safe. Welcome this New Year with an open heart and an open mind. It's going to be a blast and we're all going to achieve every single goal we've put upon ourselves, or at least try really, really hard.
Best Always,
Angel Grablev
Freedcamp CEO